dr Marzanna Popławska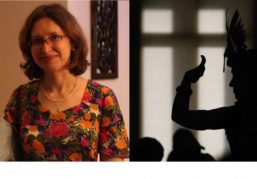 Etnomuzykolożka i antropolożka muzyki, specjalizująca się w kulturach muzycznych Indonezji i Azji Południowo-Wschodniej. Wykonawczyni muzyki i tańca indonezyjskiego, zwłaszcza z centralnej Jawy.
Więcej informacji: LinkedIn
muzyka Indonezji i Azji Południowo-Wschodniej, muzyka chrześcijańska, muzyka sakralna, inkulturacja / akulturacja, muzyka i religia, etnochoreologia, diaspora, Niematerialne Dziedzictwo Kulturowe (Intangible Cultural Heritage, UNESCO), muzyka Europy Środkowo-Wschodniej
2020    Performing Faith: Christian Music, Identity, and Inculturation in Indonesia, SOAS Studies in Music, Routledge [monograph, 342 pp.]
2020    "Intangible Cultural Heritage and Policy Making in Poland", in: Cultural Mapping and Musical Diversity, Britta Sweers, Sarah Ross, eds., Transcultural Music Studies series, Equinox, Sheffield/UK, pp. 194-209;
2020    "Indonesian music-culture as personal and research experience," Ethnologia Polona vol. 39 (Special issue on anthropology of sound), Polish Academy of Sciences, pp. 71-89;  
2020    "Rahayu Supanggah and komposisi baru" (audio-paper/podcast), Glissando (online edition)
2018    "Inculturation, institutions, and creation of localized congregational repertoire in  Indonesia," in: Locating Christian Congregational Music: Indigeneity, Cosmopolitanism, and Diversity, Monique Ingalls, Muriel Swijghuisen Reigersberg, Zoe Sherinian, eds., Routledge, pp. 133-158.
2016    "New Christian Music in Indonesia: Inculturation in Transition," in: Resounding  Transcendence: Transitions in Music, Religion, and Ritual, Philip Bohlman & Jeffers Engelhardt, eds., Oxford University Press, pp. 111-125.
2016    "Chrześcijaństwo w Indonezji: globalizm i lokalizm w muzyce i liturgii" ["Christianity in Indonesia: global and local elements in music and liturgy"], in: Bogowie i ludzie: współczesna religijność w Azji Południowo- Wschodniej, Sylwia Gil, Adrian Mianecki, eds., Toruń: Wydawnictwo Naukowe Uniwersytetu Mikołaja Kopernika, pp. 129-153.
2016    "Studia nad muzyką Indonezji w Polsce i na świecie" ["Indonesian music studies in Poland and abroad"], Muzyka, nr 4, pp. 111-129. 
2015    "Taniec w Indonezji: tradycja, przemiany, kreowanie znaczeń" ["Indonesian dance: tradition, change, meaning"], in: M. Jarmułowicz, ed., Ogród sztuk Indonezji, Uniwersytet Gdański, pp. 29-48.
2014    "The National Gugak Center–Preserving and Promoting Intangible Cultural Properties in Korea", in: Korea: Art and Artistic Relations with Europe, A. Kluczewska-Wojcik, ed., Polish Institute of World Art Studies & Tako Publishing House, Warsaw–Toruń, pp. 61-68.
2012    "Traditional Arts and Christian Expression in Indonesia: The Case of Flores," in: South-East Asia: Art, Cultural Heritage and Artistic Relations with Europe, I. Kopania, ed., Polish Institute of World Art Studies & Tako Publishing House, Warsaw—Toruń, pp. 135-140.
2011    "Christianity and Inculturated Music in Indonesia," Southeast Review of Asian Studies, vol. 33, pp. 186-198.
2009    "A Report from Society for Ethnomusicology, 53rd Annual Conference," October 2008, British Forum for Ethnomusicology e-Newsletter.
2006    "Flores – Christianity and tradition," Seleh Notes 13/2, pp. 7-10. 
2005    "Wayang wahyu – the Catholic shadow theatre of central Java," Seleh Notes 12/3, pp. 7-10.
2004    "Wayang wahyu as an example of Christian forms of shadow theatre," Asian Theatre Journal 21/2, pp. 194-202.
2003    "Being an Ethnomusicologist," Selonding: Jurnal Etnomusikologi Indonesia 2/1, pp. 157-174.
2002    "Pemandangan Musik Indonesia–Refleksi FGY 2002," Gong 40:11.
1999    "The Role of Music in Family Celebrations in Java," in: Kobieta i Rodzina w Krajach Rozwijajacych Sie [Woman and Family in the Developing Countries], ed. by Elzbieta Puchnarewicz, ed., Libra, Warszawa-Bialystok, pp. 136-144.
1999    "Traditional Javanese Music–The Main Questions," Zeszyty Kola Naukowego Studentow Muzykologii UW 1, Bogna Augustyniak, ed., Kolo Naukowe Studentow Muzykologii UW, Warszawa, pp. 141-170.
1996    "Russian Music," in: World Sound Matters–An Anthology of Music from Around the World, Jonathan Stock, ed., Schott, London.
1995    "Conference Report" from the Annual Conference of ICTM (UK Chapter), Newsletter ICTM/UK.
NCN, OPUS 19, 2021-2024: "Wpływ polityki niematerialnego dziedzictwa kulturowego na społeczności lokalne i sztuki performatywne: perspektywa międzykulturowa" 
https://projekty.ncn.gov.pl/index.php?projekt_id=484760
OPIS:
Wpływ polityki niematerialnego dziedzictwa kulturowego na społeczności lokalne i sztuki performatywne: perspektywa międzykulturowa
Projekt badawczy dotyczy wpływu ustawodawstwa związanego z niematerialnym dziedzictwem kulturowym (Intangible Cultural Heritage—ICH) na lokalne społeczności i sztuki performatywne. Bierze on pod uwagę zarówno międzynarodowe, narodowe i regionalne prawo i działania, jak też oddolne inicjatywy i opinie lokalnych społeczności, w tym artystów i działaczy kultury. ICH stanowi przedmiot rozważań wielu dyscyplin związanych z kulturą. Odkąd Organizacja Narodów Zjednoczonych do Spraw Oświaty, Nauki i Kultury (UNESCO) przyjęła Konwencję o Ochronie Niematerialnego Dziedzictwa Kulturowego w 2003, problemy dotyczące ICH stały się przedmiotem dyskusji, angażujących administracje państwowe, naukowców, działaczy kultury, artystów i społeczności lokalne. 17 lat, które upłynęło od przyjęcia Konwencji, zachęca do podjęcia ewaluacji jej realnego wpływu na lokalne życie społeczno-kulturowe.
Celem projektu jest zabranie głosu w publicznej i naukowej debacie dotyczącej niematerialnego dziedzictwa kulturowego. Projekt koncentruje się na szczególnej sferze niematerialnego dziedzictwa, mianowicie sztukach performatywnych (muzyka, taniec, teatr muzyczny), które znajdują się w centrum życia każdej społeczności i stanowią jedną z pięciu domen ICH określonych w Konwencji UNESCO. Sztuki performatywne nadzwyczaj często stają się przedmiotem rozmaitych pokazów i widowisk, przede wszystkim na użytek turystów. Są one dziedziną, w której wpływ Konwencji oraz ustawodawstwa dotyczącego kultury jest najbardziej widoczny i ma szczególne znaczenie dla jednostek i całych społeczności. Oryginalne prace badawcze będą prowadzone w Polsce i Indonezji. Kraje te posłużą jako przykład względnie jednorodnych (europejskich) i różnorodnych (wieloetnicznych, wielokulturowych, postkolonialnych) społeczeństw. Autorka projektu bada wpływ Konwencji UNESCO na wybrane społeczności lokalne (regionalne) w tych krajach.
Projekt jest owocem osobistych i zawodowych zainteresowań autorki dziedziną etnomuzykologii stosowanej (publicznej) oraz współczesnymi procesami globalizacji i lokalizacji. Autorka analizuje złożoność procesów ludzkiej kreatywności i innowacji, biorąc udział w globalnym dyskursie na temat niematerialnego dziedzictwa kulturowego i jego roli dla społecznego i indywidualnego zrównoważonego rozwoju.