Russia and Poland: A Study in Historical Divergence
Join us for the open semnar at IEiAK UW. Our guest will be Georgi Derluguian - sociologist and historian of Armenian, Russian and Ukrainian descent, a professor of Social Research and Public Policy at New York University Abu Dhabi.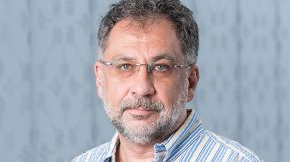 At the dawn of the modern era, imagine what the January 1500 issue of the Economist magazine might have looked like. Published in Latin or, more plausibly, in classical Arabic, the global experts of their age would project two trends for the coming 16th century. The firearms have just ended two greatest challenges of the Middle Ages: feudal separatism and nomadic assaults. Following from this, a new generation of great empires was ascendant: Ming China and, at the opposite end of Eurasia, he Hapsburg Spain. Between them, three great empires of Islam: Mughal India, Safavi Iran, the Ottoman Turks claiming the legacy of Byzantium. Two prospective outliers could be mentioned: the rapidly expanding Poland and distant Muscovy. Would anyone even mention England let alone Holland? Fast forward to 1900 to see how greatly the world geopolitics have changed. All the frontrunner of 1500 went under, Britain reigned supreme with the upstart Japan, Germany, and America catching up since only the 1870s. The tsarist empire is still in the running although ever on the cusp of revolutionary turmoil. We shall discuss briefly the turning points of 1918, 1945, 1989 in order to see where are we in 2022 and what can (and cannot) elucidate this kind of macrohistorical analysis.
Georgi Derluguian (NYU Abu Dhabi): Having first studied African languages and history at Moscow State University, Georgi Derluguian saw his first war in Mozambique in the 1980s. Having returned from Africa to Moscow in 1989, he saw with astonishment that parts of the unraveling Soviet Union were rapidly coming to resemble the Africa's politics of corruption as well as its civil wars. Georgi's first-hand study of Soviet collapse culminated in the award-winning monograph Bourdieu's Secret Admirer in the Caucasus (University of Chicago Press, 2005). Its main question was simple: What processes and contingencies transformed the provincial Soviet intellectuals, once enamored with French cinema and sociology, into the ferocious guerrilla fighters for the nationalist and religious causes?
In the past, Georgi taught as an Assistant Professor of Sociology and International Studies at Northwestern University. He was also a Visiting professor at Sciences Po and Université de Bordeaux in France, as well as Tallinn Technological University in Estonia and Kiev State University in Ukraine.