"Not through masturbation, but in a permitted manner": Catholic reinterpretations of assisted reproduction
We invite you for the next Katorep Seminar. This time we will host Tinne Claes.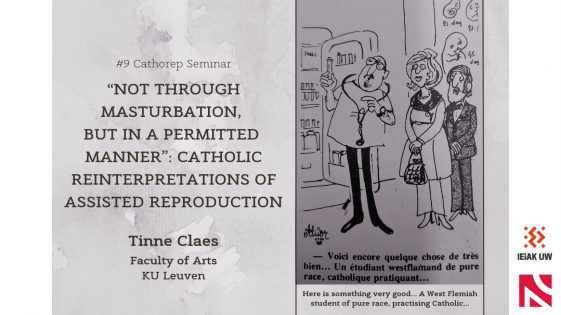 About:
This talk shows how Catholic doctors in Belgium, a dominantly Catholic country that was home to the largest Catholic university in Europe, creatively handled church teachings on assisted reproduction from roughly the 1940s until the 1980s. Catholic thought on reproductive medicine is mostly represented as restrictive and conservative, but this is not the full picture. On the contrary, this talk reveals that medical practitioners looked for loopholes within church teachings, creating 'Catholic' versions of artificial insemination and in-vitro fertilisation. In so doing, this talk adds a new dimension to recent histories of contraception, which complicate narratives of conflict between religion, science, and sexual liberation.
Bio:
Tinne Claes is a postdoctoral fellow at the University of Leuven. Her research concerns the history of medicine, gender and sexuality in the nineteenth and twentieth centuries. Her current research project elucidates the diverse ways in which infertility was defined and experienced in the postwar period, questioning the privileged position of medical approaches in historical research.